The First Minister has announced that all non-essential businesses will close from end of trading on 19 December 2020. More information can be found on the Welsh Government website gov.wales/alert-level-4-guide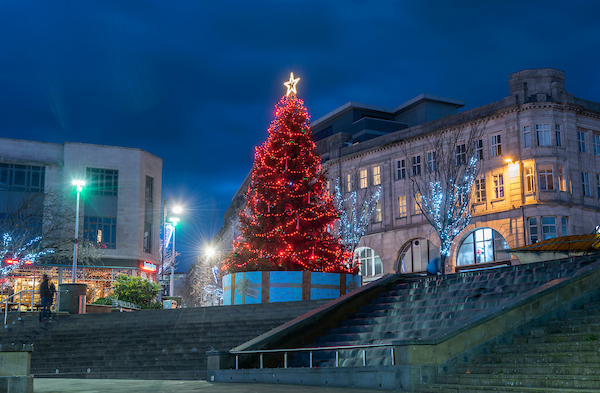 Friday 27th November – Monday 21st December 2020, Oxford Street
Swansea Christmas Market is now officially open! Come along for unique gifts, beautiful decorations, tempting treats and a traditionally festive and safe shopping experience right in the heart of the City Centre!
Opening Hours:
Monday – Saturday: 9:30am – 5:00pm
Sundays: 10:30am – 4:00pm
Stay safe this Christmas!
Some shoppers may be unable to visit the Christmas Market; therefore, we've put together a virtual Christmas Market where you can support our traders from the comfort of home, just click the links below!
Caerynys Shed Jewellery
Rustic handcrafted silver jewellery made by a Gower based silversmith!
Cwm Deri Vineyard
Cwm Deri Vineyard have a wide selection of quality wines, meads and liqueurs all produced on their Pembrokeshire estate!
FiFaFooo
These seed embedded cards can be grown into beautiful flowers after Christmas!
Glitzy Vintage Jewellery
A selection of beautiful vintage and upcycled jewellery, with pieces spanning from the Victorian era through to mid-century modern.
Ivy Moon Designs
Ivy Moon Designs stock a range of steam punk and gothic accessories as well as quality handmade leather goods and waistcoats.
Pappy Doc
A collection of handmade items including pop-up greeting cards, leather goods and facemasks.
Personalised by Lucy
Stylish customisable gifts and homeware, Personalised by Lucy is a Llanelli based business!
Sians Emporium
Handmade wooden toys, puzzles, soaps, candles and much more!
Stick Sand Stones
A range of traditional wooden crafts with a contemporary feel, Stick Sand Stones uses driftwood from Welsh shores meaning no two items are never the same!
This post is also available in: Welsh