The City Centre Ranger Service, which is part of City Centre Management, dates back to 1998 during which time the Service has seen many changes taking place.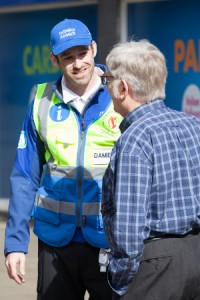 Rangers were first introduced in Swansea to be the eyes and ears of the City Centre and to report problems and deal with issues such as broken paving, street furniture, discarded rubbish, vandalism and graffiti.
Whilst this remains a key part of the job, the Service has evolved significantly since its early days with customer service being at the heart of the Ranger's job description. For example, in the past 13 months the team of 4 Rangers dealt with 34,000 incidents in the City Centre with customer queries consistently being the highest performing category.
In addition to this ambassadorial role, the Rangers provide hands on support to facilitate and manage the various events and activities that take place in the City Centre and to coordinate safe access into the area. They also continue to work closely with local businesses and Police to help reduce business crime and anti-social behaviour.
Between them, the Rangers work seven days a week including bank holidays from 8am-6pm daily and they patrol a zone extending from Westway and Dilwyn Street in the west over to High Street and Mansel Street in the north. Additional areas include Parc Tawe and the Quadrant shopping centres, Maritime Quarter and Wind Street and as far east to the River Tawe.
Meet the team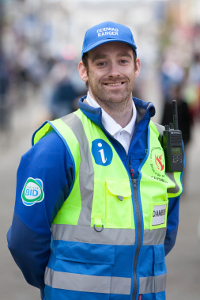 Damien Edgell – Senior Ranger
Damien, who is our Senior Ranger, has worked for the Local Authority in several roles and has a youth work and customer service related background. Damien is passionate about events and leads his team to deliver a comprehensive programme of on-street events and activities.tel: 07583 399751
email: Damien.edgell@swansea.gov.uk
---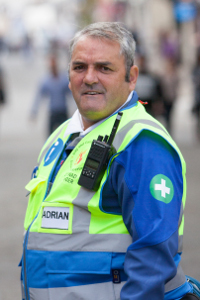 Adrian McGrath
Adrian, has been employed by Swansea Council for over 25 years and believes his experience in leisure and retail stands him in good stead working as a Ranger. The Swansea Safe Child Scheme, which helps reunite lost children with their carers as quickly as possible, was remodelled by Adrian to take into account vulnerable adults.tel: 07917200289
email: Adrian.mcgrath@swansea.gov.uk
---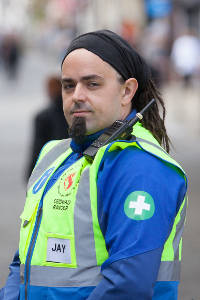 James Harry
James has been working as a City Centre Ranger since 2009 and has had previous experience of working as a store security guard. James uses this experience and works closely with the Police to identify and target known trouble makers.tel: 07826 950426
email: James.harry@swansea.gov.uk
---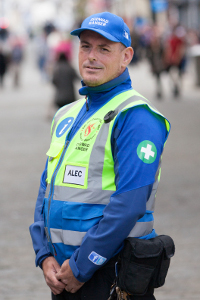 Alec Dubens
Alec Dubens joined the Rangers in 2009, having previously worked with the homeless during his time at Wallich Clifford and also has an active interest in outdoor pursuits. Alec was the driving force behind the 'From Busk Til Dawn' busking and on street entertainment scheme which has recently been re-launched.tel: 07826 950427
email: Alec.dubens@swansea.gov.uk
---
Contact the Rangers
For general enquires please call the City Centre Management Office during office hours on 01792 483892 or email citycentrerangers@swansea.gov.uk
For emergencies, there is a Rangers Emergency Line (07826 394771) or alternatively contact the City and Country of Swansea Switch Board on 01792 636000.
Tell us what you think about the Rangers?
The Ranger Service is constantly changing and we need to know what shoppers and visitors to the City Centre and local businesses think about the work that the team do. Please take a moment to complete and return our questionnaire below.
Ranger Questionnaire
This post is also available in: English