COVID Alert Level Zero
From Saturday 7 August 2021, Welsh Government have moved the COVID Alert Level to zero. This means that all businesses can now re-open and Swansea city centre visitors will notice a lifting of restrictions, including capacity limits in shops and venues.
However, all businesses and visitors should continue to take precautions where possible; Welsh Government have issued the following to help us all understand what Alert Level Zero means:
– There will be no limit on the number of people you can meet indoors or outdoors, including in private homes, public places or at events.
– The few remaining businesses who were still required to be closed, including nightclubs, will be able to reopen.
– You will no longer legally have to wear masks in hospitality settings where food and drink is being served. But we still encourage you to wear them in those settings where this is practical.
– You will still have to wear a mask in most indoor public places (including public transport, shops and healthcare settings).
– Businesses, workplaces and places open to the public must take reasonable measures to minimise the risk of coronavirus.
More information here can be found on the Welsh Government website.
Business Support
Where can I find more information on the grants and support that is available to businesses?
If you're a business, more information on help and support during this time can be found on the Council's Advice for businesses about coronavirus page as well as Business Advice Wales.
Where can I find more information on how to safely reopen my business?
On a local level Swansea BID has put together helpful guidance to support businesses in the City Centre with their re-opening plans.
The Welsh Government also have a lot of information for businesses on their website.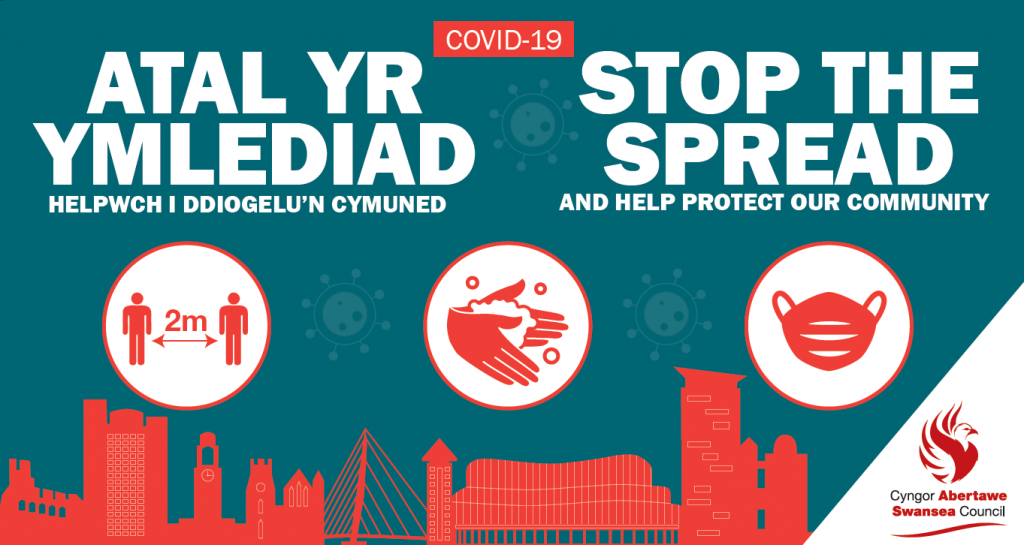 This post is also available in: Welsh