The Big Local App, the smartphone app packed full of local news, information, entertainment and business listings has now launched in Swansea! Download it now for 'FREE' and find out lots of information about Swansea City Centre!
The app is available 'FREE' from the App Store for iPhone and iPod touch, and from the Android Market for all Android phones, so a wealth of local information is right at your fingertips.
The Big Local App contains a business directory containing a wealth of businesses, many with their own mini-apps which allow you to access detailed information including products and services, opening times and location maps. There's also a direct link to local cinema times, local news from the BBC and all your local council information.
You can also download the new 'FREE' City Centre Loyalty Card. Once downloaded just click on the Big Heart of Swansea logo on the landing page and then 'Vouchers' and simply show the image of the Card off your phone screen to an assistant to redeem. For general information on the Card and the list of current offers go to 'More Info' .
To start using the app today visit the App Store directly from your device and search for BigLocalApp!
If you want your business to take part in the Big Local App, please contact 07791 515036.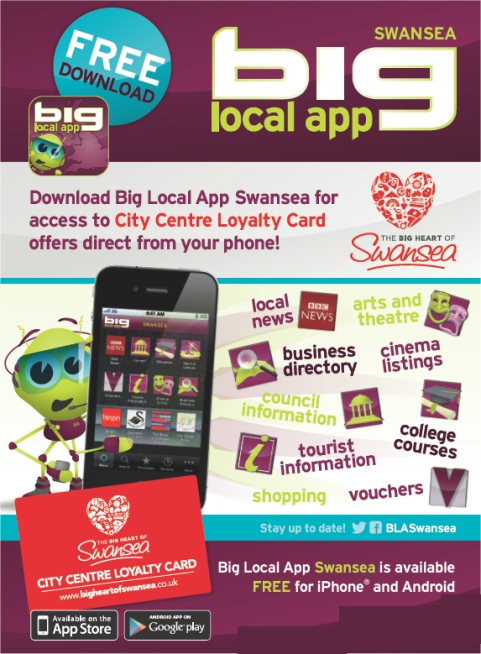 This post is also available in: Welsh