What is Swansea Mobility Hire?
Swansea Mobility Hire, formerly Shopmobility, provides powered scooters, wheelchairs and manual wheelchairs to help people who have limited mobility – through permanent or temporary disablement, illness, accident or age – to shop or visit other facilities within Swansea City Centre.
How do I find Swansea Mobility Hire?
Swansea Mobility Hire is located within the new Swansea City Bus Station.
What are the opening times for Swansea Mobility Hire?
Swansea Mobility Hire is open from 09:00 to 16:30, from Monday to Saturday.
Swansea Mobility Hire also opens on the four Sundays prior to Christmas, from 10:45 to 16:00.
What is available to hire?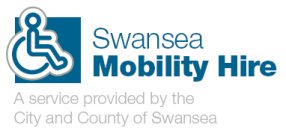 Manual wheelchairs, electric wheelchairs and powered scooters.
Who can use the Swansea Mobility Hire?
Anyone with a temporary or permanent disability.
How much does the service cost?
Membership fees are currently £7.50 per year with a charge of £1 each time the equipment is loaned.
There is a visitors fee of £3, this fee is for holiday makers, and people who are on day trips to Swansea.
How do I become a member?
You will need to provide two proofs of identification, showing your current name and address, pay the annual membership fee of £7.50 and complete a simple form.
Tourists and day visitors will also be required to provide two proofs of identification.
Do I need to book in advance?
It would help us to ensure a mobility aid is available if you can book in advance.
To book please ring 01792 461785 or use the Mobility Hire Online Booking Form.
Whilst we will do everything we can to accommodate you, for those not booking in advance we cannot guarantee availability of equipment.
Where can I use the equipment?
All equipment is for use within Swansea City Centre only. Please ask for a map on your first visit.
How long can I have the equipment for?
Equipment is available on a daily basis from 9:00am with a return time of no later than 4:30pm.
Is parking free for Swansea Mobility Hire users?
Yes. There are 30 spaces available adjacent to Swansea Mobility Hire.
Will I be trained to use the equipment?
All new members receive training in the safe use of equipment on their first visit and if using a different type of equipment from that of previous visits.
This post is also available in: Welsh