Swansea City Centre is easily accessible by road, rail and air.
Road – Swansea is only 3 1/2 hours away from London. The City Centre is located off the A483 Fabian Way which leads to junction 42 of the M4 motorway.
The national motorway network including the Midlands, South West and North are accessible from the M4. Fast and frequent Park & Ride services to the city centre are available at three sites, accessed from Junction 42, 45 and 47 respectively and well signed from these main routes to the city centre.
Bus
National bus services to Swansea from all over the UK are readily available 7 day a week.
Rail – An hourly rail service runs from London to Swansea with a journey time of 3 hours as well as regular services to other major business destinations.
There is also an hourly through train from Manchester with every region of England linked to Swansea by just one interchange every hour seven days a week.
Air – Cardiff International Airport is only 50 minutes away from Swansea City Centre by road or rail.
There are also excellent road and rail links from Birmingham, Bristol, Heathrow & Gatwick Airports.

For further information go to the Visit Swansea Bay web site
How to find your way around Swansea City Centre once you're here, including car parking and Swansea Mobility Hire facilities.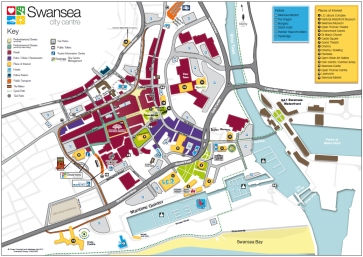 For up to date information on Swansea car parking please see http://www.swansea.gov.uk/carparks
Swansea Mobility Hire (formerly known as Shopmobility), based conveniently in Swansea Bus Station, hires mobility equipment for those having difficulty getting around.  Members benefit from ample parking space at Garden Street and the staff are on hand to assist in choosing the right equipment for you whether it's an electric scooter, powered or manual wheelchair.  Residents and visitors can take advantage of the service regardless of age or whether a disability is temporary or permanent.
For more details visit Swansea Mobility Hire or tel: 01792 461785 or email swanseamobilityhire@swanseacitycentre.com
This post is also available in: Welsh