How to find your way around Swansea City Centre once you're here, including car parking and Swansea Mobility Hire facilities.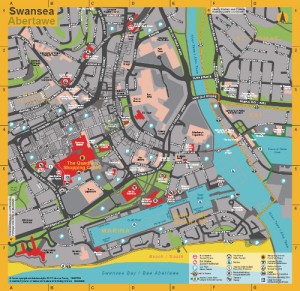 Swansea City Centre Pocket Map 2015
---
For up to date car parking information see http://www.swansea.gov.uk/carparks
Swansea Mobility Hire (formerly known as Shopmobility), based conveniently in Swansea Bus Station, hires mobility equipment for those having difficulty getting around.  Members benefit from ample parking space at Garden Street and the staff are on hand to assist in choosing the right equipment for you whether it's an electric scooter, powered or manual wheelchair.  Residents and visitors can take advantage of the service regardless of age or whether a disability is temporary or permanent.
For more details visit Swansea Mobility Hire or tel: 01792 461785 or email swanseamobilityhire@swanseacitycentre.com
This post is also available in: Welsh