Swansea benefits from having the first ever Business Improvement District (BID) in Wales representing 800 + businesses in the City Centre.
Swansea BID operates within a defined geographical area, where business rate payers have voted to invest collectively in local improvements that are in addition to those that are already delivered by local, statutory bodies.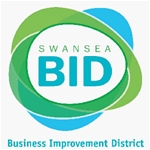 The BID is delivered through Swansea Business Improvements District Ltd, which is a not-for-profit organisation, limited by guarantee. It has a board of directors elected from the BID area, who pay the BID levy themselves. Working alongside South Wales Police, Swansea Council and other public agencies and associations, BID delivers leadership along with marketing and operational improvements for businesses located in the BID area.
BID has delivered a real step change in the trading environment and major investments between 2006 – 2011 and in August 2011 secured a strong mandate for a further 5 years until 2016. BID are now consolidating on the progress that has been made to date and responding to the challenges faced by modern 21st century High Street.
After consulting with businesses in the City Centre BID has developed the following 5 core projects;
Car parking & Transportation
Safety & Security
Marketing/PR & Events
Cleansing
Supporting & Attracting Business
Swansea BID is a direct response to City Centre businesses ideas to improve the trading environment and enhance profitability of businesses.
For further information please contact Russell Greenslade at the BID Office on;
Tel – (01792) 475021
Location – 1 Picton lane, Swansea, SA1 4AF
Email – info@swanseabid.co.uk
Web – www.swanseabid.co.uk
This post is also available in: Welsh