The superb range of leisure time facilities in Swansea are almost unrivalled in Wales.
The City offers a wealth of sports and leisure centres including the hugely popular LC Leisure Complex . Swansea City Centre is also home to Swansea's only 24 hour gym The Gym with a wide range of state of the art equipment over-looking the City Centre.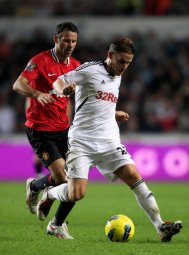 There are many other ways to enjoy sport and physical activities in the City. Swansea Liberty Stadium is a world-class multi-use sporting venue to be proud of. The 20,000 seat stadium is the home for Barclays Premier League team Swansea City FC as well as The Ospreys regional rugby team.
The Glamorgan Cricket squad is another grand opportunity to view some of the city's best sporting activities. After it's formation in 1888 they have beaten some of the best teams in the world including Australia and played at Swansea's very own St Helens cricket grounds.
Swansea boasts the only 50 metre Olympic pool in Wales; the Wales National Pool is a top attraction not to be missed by the whole family when visiting Swansea. This new complex is suitably built for beginners up to the highest standard in swimming. The centre has a café and plush corporate conference facilities to accommodate all visitors. Swimming is not the only activity on offer; you can test your athletic skills or take part in a fitness programme.
This post is also available in: English