Improvement works have been completed in this area of Swansea City Centre, which is home to many independent traders offering a range of products and services.
The area has been promoted as an 'Independent Quarter' to promote the variety of products and services on offer in the area.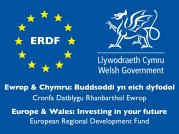 Singleton Street which is home to The Grand Theatre, Plymouth Street which links Oxford Street to the Swansea Bay Bus Station, and part of Oxford Street (west of Plymouth Street) have all benefitted from the improvements which include new footways and carriageways.
The works deliver a key part of the regeneration strategy for the area 'The Picton Lanes Initiative', which seeks to improve the streetscene, improve buildings and foster investment in the area generally.
Building Enhancement Programme (BEP) grants are available in the City Centre to assist with building frontage improvements, offering up to 50% grants.
All project partners encourage visitors to the area to explore the wealth off offer in the improvement area which includes Shoppers Walk and Picton Arcade which Link The Kingsway to Singleton Street via Oxford Street.
All project partners would like to thank all who use and do business in the area for their cooperation and patience during the works.
The scheme has delivered a major component of the regeneration strategy for the area see link below for further information.
Picton Lanes Initiative – Full Document