The Boulevard Project is a major environmental and traffic management initiative which extends along the highway corridor from the Tawe Bridges through to the Oystermouth Road /Westway junction. It is designed to deliver significant environmental enhancements, traffic management improvements and significant improvements to pedestrian crossing points along the route..
The first phase of the scheme which involved reconfiguration of the River Tawe Bridges in order to increase the capacity of this major junction, was completed in December, 2011.
Noticeable highway capacity improvements have been achieved by amending the pattern of traffic movement. The changes have seen a clockwise movement of traffic introduced around the bridges with a two-way flow maintained on the southern bridge closest to Sainsbury's.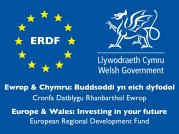 The plans below illustrate the revised traffic flow arrangements.
**************
**************
These key changes mean:
Traffic travelling into the city along Fabian Way is no longer able to turn right at East Bank Way to get to Parc Tawe, Dyfatty or Morriston. Motorists instead have to travel over the southern bridge by Sainsbury's and then turn right at Quay Parade. Access to SA1 from this the east is via the SA1 gateway junction, which the first point of access before King's Road, as the left turn into King;s Road is no longer accessible from Fabian Way.
Traffic travelling into the city centre along New Cut Road now has to drive clockwise around the bridges instead of driving straight on to get to Quay Parade.
Traffic travelling into the city centre along Pentreguinea Road is no longer able to turn right over the northern bridge to get to Dyfatty or Parc Tawe. Motorists will instead have to travel straight down East Bank Way and then over the southern bridge before taking a right at its junction with Quay Parade.
Further information
Images of the completed scheme can be viewed by clicking the following link *********
Further information about the bridges improvements is available to view *********
A leaflet providing information about the bridges improvements, along with details of other regeneration schemes is available to view ********
Further information is available through contacting Regeneration and Planning on 635677 or through e-mail at boulevard@swanseacitycentre.com
This post is also available in: English