Work to improve the pedestrian crossing between the City Centre and the Waterfront is now complete.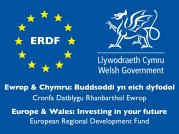 The newly improved crossing features a direct, wide  two stage crossing with a safe waiting space in the central reservation.
The crossing itself has been highlighted for both pedestrians and motorists through the use of a coloured surface and the toucan crossing incorporates intelligent technology which is able to detect when people are still crossing and to allow enough time for them to cross in safety.
High quality materials have been used and trees have been planted in order to improve the environmental quality of the area.
This forms part of proposals to enhance pedestrian linkages across Oystermouth Road to enable better access between the City and its Waterfront.
Waterfront Connections is additional scheme which seeks to further improve these links and work is now progressing well on site.
This post is also available in: English