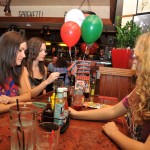 Mae'r amrywiaeth ac ansawdd y bwyd ym mwytai Abertawe yn cynnig cymysgedd hudolus o flasau traddodiadol a rhyngwladol.
Ymysg y danteithion sydd ar gael mae bwyd Mecsicanaidd, Eidalaidd, llysieuol, Indiaidd, Ffrengig, Groegaidd, Sbaenaidd, Thai, Cantonaidd ac Indonesiaidd, yn ogystal â bwyd môr lleol.
Mae Salubrious Place yn rhoi persbectif bywiog i'r diwylliant bwyta mas gydag amrywiaeth o flasau o fwytai Americanaidd traddodiadol i'r teulu a bwytai Eidalaidd Frankie & Benny's, Eddie Rocket's City Diner , Jimmys a TGI Fridays, i flasau Medetaranaidd bwyty Portiwgeaidd Nando's.
Ymysg rhai o'r bwytai diweddaraf yn y ddinas mae; The Smoke Haus, a Fawr tra bod bwytai sefydledig megis Bounchon Di Rossi, Chelsea Café a The Dragon Brasserie yn hen ffefrynnau.
Ers degawdau, mae Marchnad Abertawe yn Stryd Rhydychen wedi cyflenwi amrywiaeth helaeth o gynnyrch lleol ffres i fwytai'r ddinas, gan amrywio o fwyd môr wedi'i ddal yn lleol megis sewin, cimychiaid a chocos i gig oen, caws a llysiau organig.
Am fwy o wybodaeth am y lleoedd gorau i fwyta yn Abertawe a'r cyffiniau, ewch i'r wefan food passion neu'r wefan trip advisor i gael adolygiadau annibynnol.
---
Os hoffech i'ch busnes gael ei restru yma gyda dolen i'ch gwefan, e-bostiwch eich manylion ibusiness@swansea.gov.uk
This post is also available in: English